Free hiking checklists to make your outdoor adventure incredible
Ways to use Your Hiking Checklists
Pin your favorite hiking checklists on Pinterest
Screenshot your top hiking checklist
Save the best hiking checklists to your computer
Download your favorite hiking checklist
Download the Full Hiking Checklist Bundle
Outdoor Time Tracker for 2022
Ice Hiking Checklists
Crowdsourced Favorites & Top Recommendations
You voted in your favorite US and All-Around favorite National Parks (NP) and the results are in! What's on your 2022 bucket list?
Hiking Checklists Designed for Every Outdoor Season
Depending on when and where you're going, pick one of these basic gear checklists or create your own!
Customizable Templates Designed to Suit Your Hiking Goals
With these fully customizable hiking checklists, you're set for any upcoming adventure. Just download the image, add your hiking essential items, check it twice, and you're off! Enjoy.
US National Park Recommendations
Places to Hike from Around the World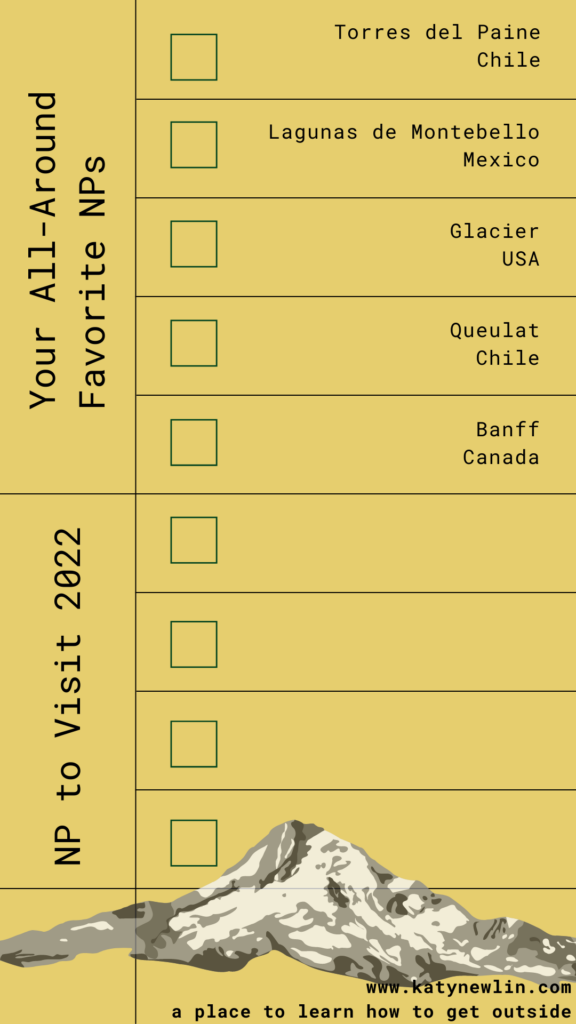 More Information & Tools from To The Trails
Finding motivation, how to pack a bag, what clothing to layer for different types of weather, & more with your weekly outdoor podcast: To The Trails Podcast Episodes
Dream big and start planning your next thru-hike and outdoor hike solo, with friends and family, or your furry friend with all links in one place: Resources
Curious about the behind-the-scenes and why we're here. Creep here: About To The Trails Podcast and Your Host
Want to Learn and Explore More?
REI designed some checklists for day hikes, backpacking, first aid kits, and more. And their day hiking checklist contains interactive boxes where you can check the list off right AS YOU PACK!
Hiking in the Smokys gives you another perspective and flavor on hiking essentials and checklists on what to bring with you outside, including pocket knives, multitool, and bandanas: all EXCELLENT recommendations that are super versatile and incredibly handy to have on the trail.
Prefer a simple and minimal checklist? Best Hiking has your back with its detailed but minimal layout with interactive gear checkboxes. And a spanish version from Andesgear.
Click to Continue Learning before you Take to the Trails