Dedicating time to reading top outdoor adventure books and becoming inspired by others' incredible feats is one of the best time investments that you can do for yourself. To The Trails encompasses unique outdoor adventure styles whether it be:
Rock climbing
Trail running
Thru-hiking
Star gazing
Mountaineering
Bird watching
Bike touring
These are top outdoor adventure books recommended to change the way you feel about planning adventures and – trust us – they're going to make you want to be outside even more than you already want to be.
Top Outdoor Adventure Books
Tracks
Tracks by Robyn Davidson
One of the most incredible stories, this book recalls an account of withstanding more toxicity than ever needed, living amongst the desert elements, and the love between a human and nature. Tracks is an account of a woman, a dog, and camels walking Australia. Absolutely outstanding.
Wild by Nature
Wild by Nature by Sarah Marquis
A woman hiking along throughout the world, accounting for the hospitality and sheer brutality of the world as she walks.
Ocean Themed Stories
Swell
Swell: A Sailing Surfer's Voyage of Awakening by Captain Liz Clark
This inspirational story tells a tale of a single woman who set out to sail around the world. She rediscovered more about herself than she knew, learned to travel where the weather took her, and relinquished time.
Empowering Rock Climbing Biographies
Alone on the Wall
Alone on the Wall by Alex Honnold
Well, I mean, it's Alex Honnold. This remarkable rock climber looks at a towering wall with impeccable lines and puts in the diligent effort to do the seemingly impossible – with the reminder to get comfortable with thinking about death on a daily basis.
The Push
The Push by Tommy Caldwell
An incredible account of a rock climber who pushed himself beyond belief to set records that were seemingly impossible.
Downloadable Outdoor Adventure Book Lists
Badass Women Taking on Impossible Outdoor Challenges
End of the Rope
End of the Rope by Jan Redford
A life narrative of relationships, trials, and tribulations while being an outdoor adventurer and an all-around female inspiration.
Biking Inspired Stories
This Road I Ride
This Road I Ride by Juliana Buhring
Pushing herself to achieve the world record for being the first female to bike around the world. And in the wrong direction. An outstanding account of a badass woman doing what she was told not to.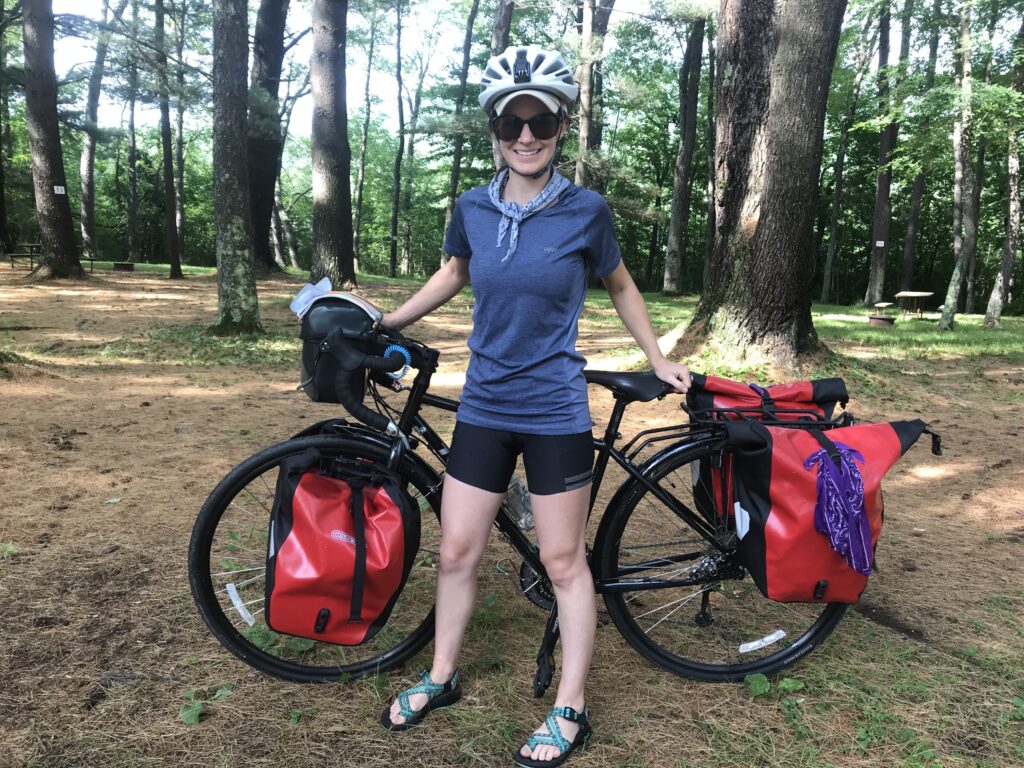 Books Related to Nature
The Hidden Life of Trees
The Hidden Life of Trees by Peter Wohlleben
This intricate story tells you about the interconnected world of forests. This book showcases the level of communication between trees. It truly shifts the way you see trees when you take to the trails and explore the world outside.
Braiding Sweetgrass
Braiding Sweetgrass by Robin Wall Kimmerer
An eloquent compilation of stories and accounts of traditional wisdom about the natural world told by a scientist. Together, she weaves scientific findings with inherent lessons from nature that have been lost generationally. We have lost touch with the ways that our world provides for us, and our responsibility to care for the Earth that provides us with everything. Relearning what was once lost can allow for the betterment of not only the planet but of ourselves therein.